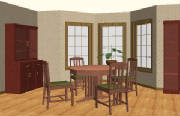 Computer Generated Dining Room
Floorplan created using IMSI Floorplan
What Can I Do With FloorPlan?
FloorPlan offers a variety of features that let you complete a total design project quickly and easily. With it you can:
Create a customized building design using your mouse.
Create a design with different floor levels
Automatically insert doors, windows, stairs, columns, decks, balconies, and roofs.
Furnish your design with items like cabinets, furniture, appliances, and plumbing fixtures.
Create shaded, rendered, and wireframe views of your model.
Create and print out various views of your model, including plan, elevation, and 3D views.
Create views similar to real photos.
Add text and plan dimensions to annotate your drawing.
Generate a material list automatically complete with quantities and prices of the materials.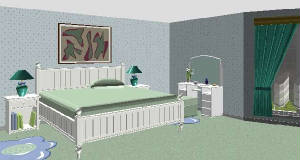 Computer Generated Bedroom